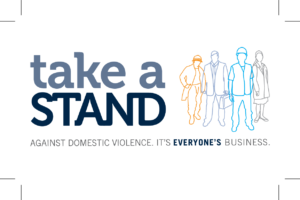 For More information about the 'take a STAND' Program contact;
Shirin Dharmalingam (Project and Business Leader)
Email: pandbl@womenshealthrockhampton.com
Phone: (07) 49 226 585
take a STAND Against Domestic Violence: It's Everyone's Business
"Violence against women is now recognized to be a serious and widespread problem in Australia, with enormous individual and community impacts and social costs." – Our Watch
Domestic violence costs the Australian economy $21.7 billion each year (PricewaterhouseCoopers 2015).
In Australia, at least one woman a week is killed by a partner or former partner (AIC, 2015). Intimate partner violence contributes to more death, disability and illness in women aged 15 to 44 than any other preventable risk factor (VicHealth, 2004). For more basic statistics on the prevalence and severity of violence against women, please click here.
Who is affected?
Domestic violence can happen to anyone regardless of age, race, sexual orientation, income or education level. While both men and women can be victims or perpetrators, most domestic violence is committed by men against women, children and other vulnerable people.[i] One in six Australian women has experienced physical or sexual violence from a current or ex-partner since the age of fifteen.[ii]
Why is domestic violence an issue for your workplace?
The health and safety of employees at home affects their health and safety at work. Domestic violence also results in absenteeism and lost productivity and acts of domestic violence can be carried out at work.
PricewaterhouseCoopers estimated that in 2014-15 domestic violence cost Australian businesses 1.3 billion dollars. If no further action is taken to prevent violence against women, it will cost Australian employers $19.4 billion in 2044-45.
What can workplaces do?
The Take a Stand against Domestic Violence: It's Everyone's Business program helps prevent violence against women before it occurs by working with businesses to change attitudes and behaviours that support violence against women and support staff who may be experiencing it. The Women's Health Centre Rockhampton and its partners work with businesses to implement the three core elements of the Take a Stand program – lead, train, promote
The organisation shows leadership though executive commitment and workplace policy to prevent domestic violence.
Using flexible delivery, staff gain the skills and confidence to speak up when they hear or see attitudes or behaviours that support violence against women.
Managers and human resources staff receive additional training in how to support employees affected by domestic violence, including referral to specialist services.
Promotional materials and information about the program are provided to staff to help raise awareness of domestic violence.
Together, these three elements can create a workplace that does not tolerate violence. Recognising that domestic violence is everyone's business is the first step towards making a difference.
Origin of Take a Stand
Developed by Women's Health Victoria with funding from Victoria Health, the Program is informed by research that links sexist attitudes to violence against women. It is informed by VicHealth and Our Watch frameworks – 'Preventing violence before it occurs' and 'Change the story'.
Take a Stand is firmly founded on evidence and experience gained from the Working Together Against Violence project conducted Women's Health Victoria in partnership with Linfox. The project was funded by VicHealth and ran from 2007 to 2012. It aimed to strengthen the organizational capacity of a male-dominated workplace to promote gender equality and non-violent norms. Linfox provided a multi-site workplace to pioneer the program.
[i] VicHealth (2007) Preventing violence before it occurs: A framework and background paper to guide the primary prevention of violence against women in Victoria. Melbourne: VicHealth.
[ii] Australian Bureau of Statistics (2012), Personal Safety Survey Australia. Australian Bureau of Statistics, Canberra