Welcome to the Women's Health Centre
"In our community, every woman has the support, knowledge and resources she needs to achieve safety, health and wellbeing. She meets health challenges with strength and resilience. She acts to protect and improve her own health as well as caring for others. Family and friends travel beside her in wellbeing."
Established in 1991, and funded by the Queensland Government Department of Communities, Child Safety & Disability Services, the Women's Health Centre is a community managed organisation that works from a feminist perspective which values all women, acknowledges diversity, and provides a women focused model of service delivery.
The Women's Health Centre aims to enhance women's quality of life by providing an holistic health service, contributing to empowerment of women, and improving the health and well being of all women throughout Central Queensland. This includes all areas of life that can affect a woman's health, such as the emotional, psychological, social, spiritual, physical, political and financial.
2017 Major Fundraising Event!
Tickets available now via EventSmart (see link below) or contact the Centre on 49 226585 for alternative payment options!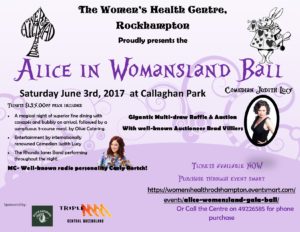 Click on the image above to enlarge.