"In our community, every woman has the support, knowledge and resources she needs to achieve safety, health and wellbeing. She meets health challenges with strength and resilience. She acts to protect and improve her own health as well as caring for others. Family and friends travel beside her in wellbeing."
Established in 1991, and funded by the Queensland Government Department of Communities, Child Safety & Disability Services, the Women's Health Centre is a community managed organisation that works from a feminist perspective which values all women, acknowledges diversity, and provides a women focused model of service delivery.
The Women's Health Centre aims to enhance women's quality of life by providing an holistic health service, contributing to empowerment of women, and improving the health and well being of all women throughout Central Queensland. This includes all areas of life that can affect a woman's health, such as the emotional, psychological, social, spiritual, physical, political and financial.
Confident, Inspired & Ready for Work- Round 3
Round 3 of our Skilling Queenslanders for Work program 'Confident, Inspired and Ready for Work' begins on the 9th November 2017. The program runs each Thursday and Friday between 9:30am- 2:30pm, and is completely FREE for participants.
This program is for young people aged 15-24 years of age, and is perfect for those who:
Are facing barriers to gaining employment ( for example; long term unemployment, needing to upskill in resume writing or answering selection criteria)
Employed casually but are seeking more permanent work
Not eligible for a Centrelink payment due to parents income being too high
Are school aged but disengaged from school
Have left school in the last few years and not sure where to go next
Interested? Simply call the Centre on 49 226 585 and ask to speak to Shirin or Amy to book a candidate interview! Interviews available now!
Understanding Anger!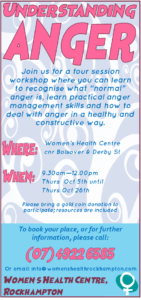 Do you struggle with Anger? Would you like to learn more about where anger comes from, what purpose it serves in our lives and strategies to control your anger? We have our 'Understanding Anger' workshop beginning on the 5th of October. Call 49 226 585 to register.